New York Sail GP. A regatta at the limit
This summer, the iconic metropolis will serve as the backdrop for the New York SailGP, a new regatta on the calendar in which six countries will compete against each other in fast super catamarans. The characteristics of these sea racing cars (the F50 can surpass 50 knots of speed) are so special that we can hardly speak of "sailboats". The Major, for example, is a Wingsail (a mix between sail and airplane wing).
 
Photo: source The Times
The New York SailGP will take place on Friday and Sunday. Saturday 21 and 22 June in the lower Hudson River, known for wind changes through Manhattan's skyscrapers, strong currents and tidal flow, will test world-class sailors to their limits.
Teams from the United States, Australia, China, France, Great Britain and Japan will compete in a total of five short-format fleet races, culminating with the first two teams in a match racing final to determine the winner of the event on Saturday afternoon.

Download the APP
This regatta show has its own APP (SailGP). If you are a sailing madman, you will enjoy yourself and feel like a real sailor.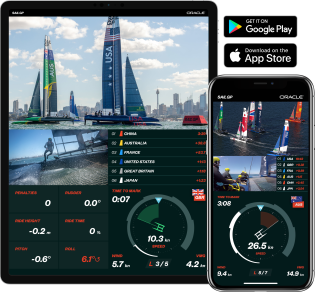 To follow her: https://sailgp.com/